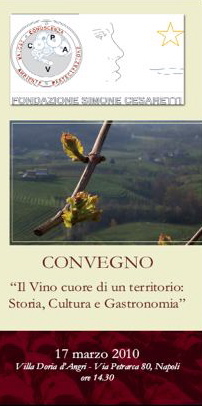 Gennaro Ferrara
Rector, Università degli Studi di Napoli "Parthenope"
Augusto Marinelli
Vice-President, Simone Cesaretti Foundation
Terenzio Medri
National Chairman, Associazione Italiana Sommeliers
Opening Session
Chairman: Augusto Marinelli
Presentation of the "Youth suspended between life and alcohol" project
Mario Morcellini
Dean, Faculty of Communications Sciences, Università degli Studi di Roma "La Sapienza"
"Youth and Wine"
Terenzio Medri
National Chairman, Associazione Italiana Sommeliers
Wine and culture: amid sustainability and markets"
Silvio Menghini
Head, UniCeSV, Università degli Studi di Firenze
"Wine as the heart of a territory"
Luigi Moio
Wine Maker and Full Professor of Oenology, Università degli Studi di Napoli "Federico II"
"The vine and wine in the ancient world"
G. Carlotta Cianferoni
Director, National Archaeological Museum, Florence
"The Symposium"
Filomena Moscato
Archaeologist, Consulant to National Archaeological Museum, Florence
"Wine and Gastronomy"
Rosanna Marziale
Chef, Le Colonne Restaurant, Casagiove (CE)
Food and Wine Tour
"The Flavours of a Territory"
organized by A.I.S.
Tasting of typical products matched with wines from some Italian native grape varieties.
With the aim of proposing a cultural change in young people's approach to wine drinking, the Simone Cesaretti Foundation organized the Conference entitled "Wine as the heart of a territory: History, Culture and Gastronomy".
The conference was part of the "Youth suspended between life and alcohol" Project promoted by the Foundation and was organized in collaboration with Associazione Italiana Sommeliers (A.I.S), A.I.S. Basilicata, A.I.S. Campania, Università degli Studi di Napoli "Parthenope", the university research and training centre for the competitive development of the Italian wine sector of Università degli Studi di Firenze (UniCeSV) and the National Archaeological Museum of Florence.
The conference focused on the "quality consumption" of alcoholic products as a new style of drinking that acknowledges the cultural, historical and evocative significance of wine, over and above its hedonistic connotations. All the operators in the wine sector can, in fact, play a fundamental part in furthering, planning and experimenting new forms of corporate responsibility, aimed at educating towards a quality consumption of alcoholic products.